Most of our patients can book their surgery within a two-week window.
As NHS waiting times for elective treatments continue increasing due to the Covid-19 pandemic, leaving thousands of people waiting for routine operations across the UK, many people are opting to go private, either self-funding for their procedures, or with private medical insurance.
This data from NHS England shows the increase of patients waiting for NHS treatment.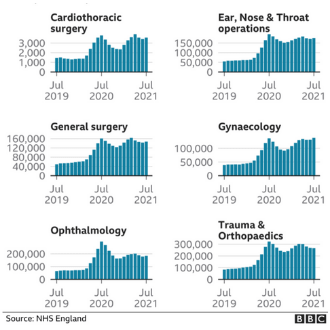 We understand that waiting for your treatment can cause undue stress and anxiety for patients and their loved ones, and that is why, as well as helping the NHS with some crucial lists, we have been safely seeing and treating private patients throughout the pandemic.
Most of our patients are offered consultation and surgery appointments within a two-week window, and we can provide your full care pathway from Outpatients through Radiology and Surgery (if needed) with complete patient safety, thanks to our 'Green site' status as a COVID-free hospital.
If you would like to make an appointment to see any of our Consultants privately, please call: 01295 252 281 or email appointments@foscote.hospital