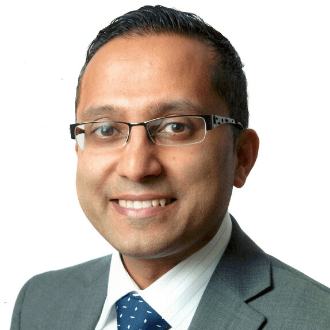 Mr Rajen Tailor
Consultant Ophthalmic Surgeon
Sub-Specialities
Cataract
Glaucoma (medical, surgical and laser - iridotomy and laser trabeculoplasty)
Dry Eyes
General Ophthalmology
Training & Background
Qualifications:

BSc MBBS MRCP FRCOphth

Year first qualified:

2000

GMC number:

4693352

Main NHS base:

Oxford University Hospitals NHS Trust
Mr Tailor is an NHS consultant ophthalmologist at Oxford University Hospitals and is a specialist in Glaucoma, Cataracts & General Ophthalmology. He completed his medical training in London and ophthalmic training in the West Midlands to become dual qualified in both Medicine and Ophthalmology. Following completion of ophthalmic training, Mr. Tailor undertook a further two-year fellowship in Glaucoma from the internationally renowned Moorfield's Eye Hospital, London.  During his time at Moorfield's, he gained extensive experience in the management of complex glaucoma and in performing complex cataract & glaucoma surgery (trabeculectomy, aqueous shunt implantation, and cyclophotocoagulation).
Furthermore, with the recent development of MIGS (minimally invasive glaucoma surgery), Mr Tailor has experience in performing implantation of the i-stent, Xen implant, Hydrus implant, and the KDB glaucoma procedure.
Research & Teaching
Mr Tailor is actively involved in teaching, training, and research in the field of Glaucoma, running a bi-annual surgical glaucoma course throughout the UK, speaking at local & regional meetings, training fellows from the UK and overseas and acting as a principle investigator for international glaucoma studies.
He has a number of peer-reviewed publications and written book chapters as well as won local, national and international prizes in both general ophthalmology and glaucoma.
Recently he was awarded a Staff Recognition Award (December 2019) for development and expansion of the Glaucoma service in Oxford.
Professional Memberships
Royal College of Ophthalmologists
Glaucoma Society of United Kingdom and Eire
Awards received
Alcon 2014 Glaucoma Case Study Award winner
Best Poster Award: Midlands Ophthalmological Society meeting (2012)
Best Poster Award – International Congress on Glaucoma Surgery (2012)
Chris Chew Memorial Meeting: 1st prize. Case presentation (2011)
Sankey Medical Prize (runner-up). Case presentation (2010)
Award from the Duke of Edinburgh in recognition for organizing and participating in a charitable medical camp performed in India (2004).