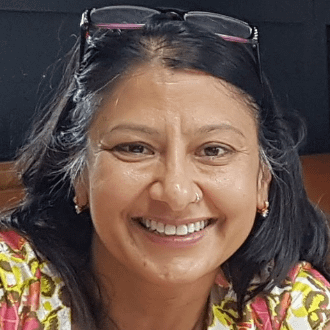 Dr Sapna Sharma
General Practitioner
Sub-Specialities
Contraception including LARC method
Coil insertions & removals
Contraceptive implants insertions & removals
Women's health
Palliative Care
Training & Background
Qualifications :

MBChB, DRCOG, DFSRH, (MRCGP), MD

Year first qualified :

1992

GMC number :

3613207

Main NHS base:

Ealing, London North West University Healthcare NHS Trust
Dr Sharma graduated from Aberdeen University in 1992 graduating with MBChB (Bachler in Medicine and Bacher in Surgery – a standard UK Medical Degree).
She went on to do Vocational Training as a GP on the south coast of England in and around Worthing in West Sussex. During Sapna's training as a GP, she obtained a diploma in obstetrics & gynaecology (DRCOG) and another diploma in Sexual and Reproductive Health care (DFSRH). She was obtained by Joint Committee on Postgraduate Training for General Practice (JCPTGP) in 1996 and has been working as a GP since then.
Dr Sharma also undertook at the local hospice in Worthing and worked as a Specialist Grade Doctor in Palliative care on a locum basis.
In 1999, Dr Sharma got a Howard Hughes Scholarship to go to Harvard Medical School, Boston MA USA as a Research Fellow. During her time there she published a paper in The New England Journal of Medicine, on "Sarcomere protein gene mutations cause dilated cardiomyopathy" and this was the basis of her MD.
Research & Training
Dr Sharma works as a senior research fellow at the Royal Hollow University of London, in the School of Biological Sciences. She is involved in supervising and providing clinical input to the BSc & Masters students and is involved in writing research papers.
Sapna teaches/supervises Imperial Medical Students during their attachment in General Practice.
Professional Memberships