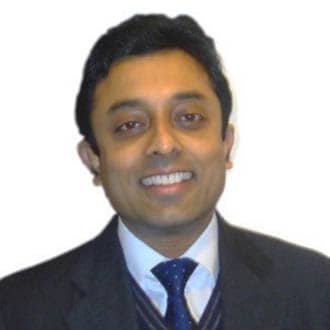 Mr Kirana Arambage
Consultant Gynaecologist
Sub-Specialities
Endometriosis
Menstrual disorders
Postmenopausal disorders
Fibroid removal
Cystectomy
Oophorectomy
Training & Background
Qualifications:

MBBS DFFP MSc MRCOG

Year first qualified :

2002

GMC number:

6083459

Main NHS base:

Oxford University Hospitals NHS Trust
Mr Arambage undertook postgraduate training in the London and Eastern deaneries and an MSc in Advanced Gynaecological Endoscopy at the University of Surrey.
He then completed the Royal College of Obstetricians and Gynaecologists (RCOG)/ATSM specialist training in advanced laparoscopic surgery. Mr Arambage won a RCOG Bernhard Baron travelling fellowship and a British Society for Gynaecological Endoscopy (BSGE) travel scholarship to train in centres of excellence in France and Australia.
He is a consultant gynaecologist at the BSGE-accredited Endometriosis Care and Research (CaRe) Centre at the John Radcliffe Hospital in Oxford.
Research & Teaching
Mr Arambage is an honorary senior clinical lecturer at the University of Oxford and is an accredited trainer in advanced laparoscopic/hysteroscopic surgery. He is also the lead for gynaecological endoscopic simulation training in the Oxford region.
In addition, he is a co-author of the most recent Cochrane review of the surgical treatment of endometriosis and has also co-authored the European guidelines on the management of distension media in operative hysteroscopy and RCOG consent guideline for laparoscopic surgery.
Professional Memberships
British Medical Association
Royal College of Obstetricians and Gynaecologists
British Society for Gynaecological Endoscopy
European Society for Gynaecological Endoscopy
American Association of Gynaecological Laparoscopists