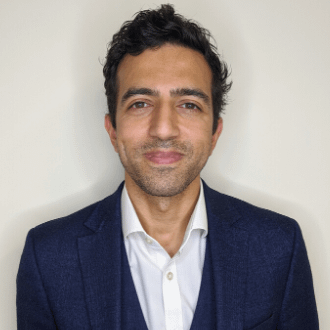 Mr Shad Khan
Consultant General & Endocrine Surgeon
Sub-Specialities
Thyroid
Parathyroid
Adrenal
Hernia
Gallbladder
Endocrinology
Training & Background
Qualifications:

MBBS MD FRCA FRCS

Year first qualified:

2003

GMC number:

6077810

Main NHS base:

Oxford University Hospitals Trust
Mr Shad Khan is Consultant Endocrine & General Surgeon based at the Oxford University Hospitals.
He completed his surgical training in London before embarking upon a fellowship in the prestigious Oxford Endocrine Unit.
He works for various charities and performs hernia surgery in Africa and South America.
Research & Teaching
Mr Shad Khan has published book chapters in endocrine surgery.
He has also been published regularly in areas of endocrine surgery.
Mr Khan regularly presents and teaches at the British Association of Endocrine & Thyroid Surgeons (BAETS) and European Association of Endocrine Surgeons (ESES) international meetings.
Professional Memberships
Royal College of Surgeons
Royal College of Anaesthetists
British Association of Endocrine & Thyroid Surgeons
Mr Khan  practices as a Consultant Surgeon in Oxford (having taken over from Mr Greg Sadler) and in London specialising in:
Parathyroid Surgery
Day case surgery
Primary Hyperparathyroidism
Normocalcaemic/normohormonal hyperparathyroidism
Scan negative (where scans have not shown any adenoma)
Redo surgery – where previous operations have failed to cure
MEN syndrome/Tertiary hyperparathyroid/parathyroid cancer
Thyroid Surgery
Suspicious nodules/cancer
Thyroid nodules
Overactive thyroid/Graves' disease
Multinodular/Retrosternal goitre
Adrenal Surgery
Keyhole surgery via retroperitoneal approach
Adrenal nodules
Conn's syndrome
Cushing's syndrome
Phaeochromocytoma
Cancer and metastasis
Hernia Surgery
Specialising in local anaesthetic hernia repair
Inguinal/groin hernias
Umbilical/Paraumbilical hernias
Epigastric hernias
Incisional hernias
Keyhole and open operations
Mr Khan accepts NHS e-referral (choose and book) patients for Hernia Surgery.
To book an appointment please call 01865 307441 or email Shadkhan.secretary@gmail.com if you have any questions.